L Carvin French bronze lion sculpture
L Carvin French bronze lion sculpture. This bronze is unmounted, measures 19-inch by 20-inch spelter lion signed L. Carvin. Louis Albert Carvin was a French sculptor, born in 1875 and died in 1951. He was known primarily for his sculptures of animals. He worked in bronze, spelter, and terra cotta.
---
"I got a chair from my grandmother with carved dragons on it. After searching everywhere, I found the same chair on your website. I thought it looked Asian, but had no idea how valuable it is! I almost sold it to a friend for a hundred bucks. I am so glad I used your site to learn how much it's worth! Your price guide is such a great tool! Thanks Again!!"
- D. Weston (customer testimonial)
Click HERE to browse our
Antiques Price Guide
Sponsor:
One of a Kind Antiques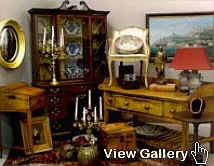 ---
click any image to enlarge
Tweet this item Share on Twitter!
---